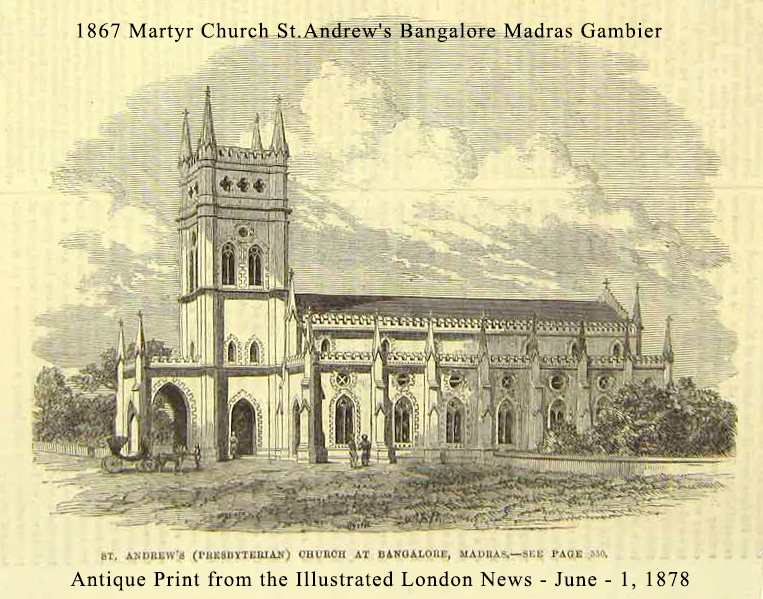 The church building has the Gothic structure with a height of 43 ft., length of 105 ft., and width of 57 ft. Stained-glass covers all the windows and the large gable. The Pulpit is made of teak wood, and is richly carved, in sync with the church architecture.
The brick coloured pure Gothic structure was designed by R C Dobbs and Major Sankey. St. Andrew's Kirk was the second church to be designed by Richard Hieram Sankey (an Irishman from Tipperary), after the Anglican Cathedral of All Saints at Nagpur. Architecturally, St. Andrew's Church has many similarities with the main block of the Central College, Bangalore, with its Gothic style, characterised by steeping roof of Mangalore tiles, a row of decorative ridge-tiles on the top, turreted parapets and gables, iron crested towers, intricately done plaster motifs, railings of cast iron, and pilasters rising from the wing.
Sankey published a description of St. Andrew's Kirk at Bangalore in the journal, Professional Papers on Indian Engineering Volume 4, published by the Thomason Civil Engineering College, Roorkee. He describes Kirk to have commenced Divine Services in November 1864. The church has a length of 93 ft., width of 57 ft. and consists of a nave covered by a slated pent roof, and aisles on the sides with Bengal terrace roofing. The church was built to accommodate 500 people. The tower was originally intended to be a steeple, has a height of 90 ft., nave to the wall plates under the roof trusses was 34 ft., and the side aisles were 23 ft. Brickwork, plastering and chunam (lime) was used in the construction. Ample ventilation and light was made possible by including clerestory windows of the nave, and main and circular windows on the side aisles. There was no transept to break the voice and the acoustics were excellent. The cost of construction was BINR 40,000, with this cost including the furniture and fittings. Half of this cost was raised by public subscription, and the other half met by the Government of Madras.