CONNECT WITH US
CHURCH LOCATION
SERVICE TIMINGS
UPCOMING EVENTS
Equipping Congregation in

God's Mission
WORSHIP - FELLOWSHIP - DISCIPLESHIP - SERVICE
NEWSLETTER
WATCH OUR SERVICES
NEWSLETTER
CONNECT WITH US
SERVICE TIMINGS
CHURCH LOCATION
WATCH OUR SERVICES
UPCOMING EVENTS
Equipping Congregation in

God's Mission
WORSHIP - FELLOWSHIP - DISCIPLESHIP - SERVICE
NEWSLETTER
CONNECT WITH US
SERVICE TIMINGS
CHURCH LOCATION
WATCH OUR SERVICES
Equipping Congregation in

God's Mission
WORSHIP - FELLOWSHIP - DISCIPLESHIP - SERVICE
UPCOMING EVENTS
NEWSLETTER
CONNECT WITH US
SERVICE TIMINGS
CHURCH LOCATION
WATCH OUR SERVICES
Equipping Congregation in

God's Mission
WORSHIP - FELLOWSHIP - DISCIPLESHIP - SERVICE
UPCOMING EVENTS
NEWSLETTER
CONNECT WITH US
SERVICE TIMINGS
CHURCH LOCATION
WATCH OUR SERVICES
Equipping Congregation in

God's Mission
WORSHIP - FELLOWSHIP - DISCIPLESHIP - SERVICE
UPCOMING EVENTS
NEWSLETTER
CONNECT WITH US
SERVICE TIMINGS
CHURCH LOCATION
WATCH OUR SERVICES
Equipping Congregation in

God's Mission
WORSHIP - FELLOWSHIP - DISCIPLESHIP - SERVICE
UPCOMING EVENTS
Daily Bible Verse:
Commit to the LORD whatever you do, and he will establish your plans.
Welcome to St. Andrew's Church
The idea of welcoming and belonging drives us at St. Andrew's Bangalore, and we are delighted for choosing to visit our website. The unassuming and joyful testimony of Andrew, the first Apostle called by our Lord, continues to inspire our existence for over 150 years. The lives of the faithful and their good work continue to inspire us to bring it to completion in our own time and in our own context. We want to invite you warmly to participate in the four focus areas based on biblical foundations that we consider vital for our journey as a community of faith: Worship, Fellowship, Discipleship and Service.
As we invite you to journey with us, we share God's faithfulness in our history and God's grace in our commitment to the present and a vision for the future.
St. Andrew's Church is committed to Participatory Christian Life in all its thinking, planning and action with a goal of Reconciliation and Transformation.
A committed Steward Leadership collectively envisions our ideas, policies, programs and projects. Our goal to reach everyone with God's love, and our work among Children, Youth, Women, Young Couples, Elderly, the poor, the needy and Professionals', echo foundations of Christian faith and practice. Our work outside with St. Andrew's School and Rural work at Tubagere are symbols of empowerment for people in the margins. Celebrating Music in Worship Services, Concerts and learning, continue to celebrate the creative legacy inherited by us. Care is inherent to our vision and the partnership of Steward Leadership is supported by Care Group Leaders in about 40 geographical zones in the city, who are bridge-builders in our ministry of extending care and compassion.
It will be our joy if you take time to join us as we together Celebrate Life in all its abundance, and work together in a Ministry of Reconciliation and Transformation.
Rev. Dr. Dexter S. Maben
Presbyter-in-charge
Kannada Service
Worship Service every Sunday Morning (except 1st Sunday)
Holy Communion on 3rd Sunday every month
8:15 am
English Service
Every Sunday (except 1st Sunday)
Combined Service
Every First Sunday
Holy Communion Worship Service – Kannada and English together
9.00 am
Evening Worship Service
Every Week
Holy Communion Service – 3rd Sunday
6.15 pm
Calendar of Events for Ministries and Wings of the Church
Sunday School
(Kannada and English)

Kannada Sunday School during the Kannada Worship Service every week, except on 1st Sunday of the Month
English Sunday School during the English Worship Service
General Assembly on 1st Sunday of the Month
Monthly Teachers devotion on 1st Saturday of the Month

Youth Fellowship

Praise and Worship practice every Saturday at 4 pm, except 1st Saturday of the Month
Regular Bible Study meetings every Sunday after the Worship Service

Young Couples Fellowship

Meets every 1st Sunday of the Month

Women's Fellowship

Meets every 1st Saturday of the Month for Bible Study
Meets every 3rd Saturday of the Month for an Art & Craft Session

Men's Fellowship

Meets every 2nd Saturday of the Month

Care for the Elderly

Meets every 3rd Saturday of the Month

Church Choir

Choir Practice every Friday
Practice after Worship Service on selected Sunday's

Career Hub

Meets every Sunday after the Worship Service, except 1st Sunday

SAME

Practice every Saturday at 10:00 am

Stuthi Kannada Choir

Practice every Saturday at 6:00 pm

Weekly Time of Prayer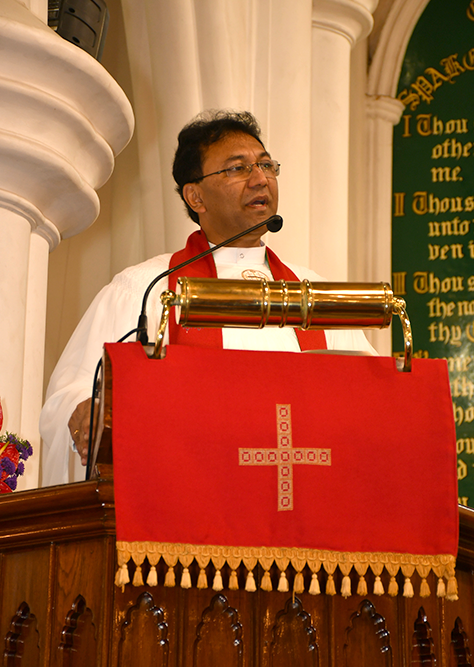 Presbyter-in-charge
Rev. Dr. Dexter S. Maben
The Church universal finds spiritual and social expression in the local church. One of the metaphors I often employ to address the members of the congregation is, "People of God." The metaphor makes sense because it provides a historical, spiritual and social sanction to the identity of the People as described in the Bible and the new identity that is found and formed in early Christianity and its relevance for us today.
The idea of the People of God points to the idea that we are the Community of God that reflects the character of God and we are precious in God's sight (1 Peter 2:4-9). It means we strive to love God and love God's people, and that we are home to everyone who is received and even rejected by the world.
The idea of the People of God strives us to be a community that welcomes and belongs. A community that celebrates hospitality and generosity, that experiences and shares the embrace of God without any distinction or prejudice. Andrew's is home of People from diverse traditions, cultures, languages and ethnic traditions. The idea of a family or a home away from home is something dear to the Andrew's family, and sharing quality time and developing friendships are celebrated with a sense of joy. Having conversations and sharing ideas over Coffee under the Tamarind Tree are now part of the legacy of the church. We are intentional about sharing the embrace of God to everyone who comes in and our sanctuary is not only a spiritual space, but an eco-sanctuary that celebrates God's creation. We are conscious about sustaining the resources provided by God, and our Rain Water Harvesting Project and Solar Powered Lighting are simple examples of our commitment to sustain the present for the future. We are also conscious that more needs to be done. Our neighbours are the esteemed members of the Armed Forces, whose selfless service we value and cherish. These are ideas that help us in realising our overarching goal of "Equipping Congregations in God's Mission," a goal that is set in the context of participatory process of collective thinking, participation and sharing of the gifts and talents given by God. The members of the Pastorate Committee numbering twelve provide the vital space for this process and they in turn provide leadership to several members who are involved in Sub-committees and Teams. The several ministry initiatives cover all age groups and it is our conviction that each one is precious in the sight of God and can be equipped to become partners in the mission of God. Our ministry-reach includes Children, Teens, Young Couples, Women, Elderly and Professionals. Our care extends to people who experience loss with bereavement support. More involvement means more engagement and more engagement means more motivation, and more motivation means more impact. Impacting persons and communities keeps driving us in doing what we are doing for God's glory. An effective Staff Team, with key management principles and performance indicators, add value to the continuing work entrusted to us.
Our key focus areas can be summarised under four heads: Worship, Fellowship, Discipleship and Service.
Worship is given utmost importance in our Christian life. Coming from a reformed tradition from the Church of Scotland, the participation of the Laity is critical to all our endeavours and the partnership of the Clergy and the Laity illustrates that good work is all about partnership.
Fellowship is a key in building up the Community, and it is more than a Sunday morning meeting for worship. Spiritual enrichment must be nurtured with a meaningful social life that helps people. Every ministry encourages small group meetings and fellowships, both offline and online. Bible Studies, Prayer, and Care contribute immensely to the fellowship. Every new member is welcomed and time taken to facilitate and help them find their comfort zones in the church. Our CARE Group with effective local leadership is an initiative to reach the last person in the congregation. Effective use of social media is becoming critical in keeping in touch with people. Our communication networks include Monthly Newsletter, Facebook Page, Whatsapp Groups and essential Telephone Communication. Our statement of Fellowship – we are available anytime. The Pandemic has been a time of learning, and an important lesson, just be there!
Discipleship is an idea that drives to understand our work both within and outside the church. Discipleship is an intentional motivation to share the Good News of Justice, Peace and Love, and Call to equip and empower. Discipleship is an act of teaching and learning. Our work at St. Andrew's School at Siddapura for over forty years for children in the margins has been an effective way to carry out this. Rural empowerment is an effective way of reaching out, and our work for over a decade in Tubagere, Doddballapur Taluk, Bengaluru Rural District, illustrate our commitment to marginalised communities.
Service is a way of expressing God's love to those in need. Not to be served, but to serve is a call that we take seriously at Andrew's. The Covid-19 pandemic has been the greatest moments of pain and loss, but one of the greatest opportunities to serve. Our Covid Agape Emergency Fund is one such initiative which is in the sixth phase and continues to support people and livelihoods both in church and communities outside, irrespective of their identity. The Neighbourhood in Need program as part of the Agape Fund supported anyone in need who walked into the campus. Our Poor Fund and Educational Scholarships support people and families in need.
Our life and work at St. Andrew's, true to the life of the Patron Saint, is a ministry carried out with humility, sincerity and commitment, with no personal glory to any human being but only to God. We celebrate meeting together and encourage one another (Hebrews 10:25).
Come, join us in a journey of Reconciliation and Transformation.
Rev. Dr Dexter S. Maben
Presbyter-in-Charge
Bangalore Cantonment boasts of a number of beautiful churches located in close proximity to each other, namely St, Mark's Cathedral, Holy Trinity Church, St. Paul's Church and St. John's Church.
St. Andrew's Church is located between Cubbon Road, opposite the Field Marshal Manekshaw Parade Ground, obscured by the tall trees in front, and Infantry Road on the other side. It is situated in the central part of Bangalore, sandwiched between the Russel Market area in Shivajinagar, and the business district around Mahatma Gandhi Road, previously known as South Parade.
Watch our Services
Services
We invite you to watch our Worship Services. Watch LIVE or past worship services and be blessed.